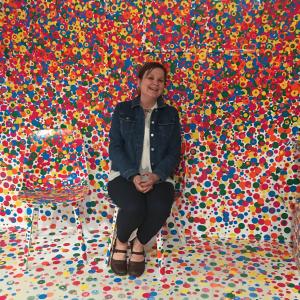 Larissa Mattwich
Artist member since 2019
Toronto , Ontario
My inspiration flows from moments in everyday life. In practice, this means my paintings are based on my own photographs, sometimes expressed with a considerably abstract brush. These snapshots might be captured in the living room, around the neighbourhood, or as far afield as New Zealand and Europe during family adventures. My love of painting has led me to take classes in both Germany and Canada to develop my technique and style. Past media have included watercolour, silk, oil and acrylic paintings as well as beaded jewellery. Acrylic on Mylar, has emerged as my artistic medium of choice in my latest DOMESTICITY series.
---
What places do you hang out in Toronto?
Ted Rogers Hot Docs Cinema
Best season of the year in Toronto
Late summer
Everyone should know about
climate change
Your favourite spot in Toronto right now
High Park allotment garden in the morning
Beverage of choice
wheat beer
What do you listen to when you work?
CBC Radio
Upcoming Exhibitions
2019-09-20
Toronto
THE QUEEN WEST ART CRAWL
Select Past Exhibitions
2019
Toronto
Unwritten Pop Art Exhibition
2018
Midland
TD Wealth Management
2018
Toronto
Project Art Toronto
SHARE THIS ARTIST